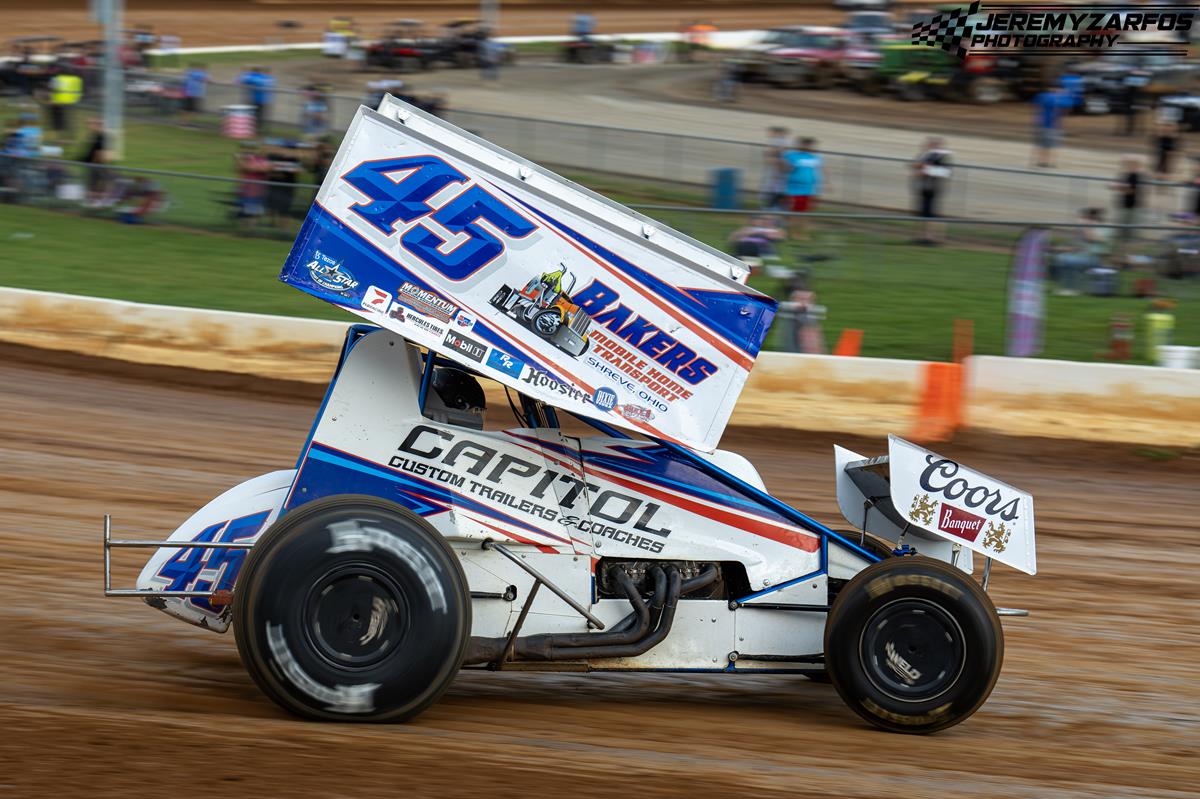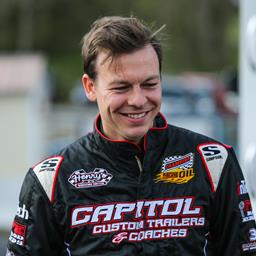 ---
Reinhardt Gets Good Start at Tuscarora 50 Before Rain Hits
All Stars Jim Ford Classic at Fremont On Tap
Port Royal, PA – September 12, 2023
by Addicted2Dirt PR & Media Mgmt
Photo Credit: Jeremy Zarfos Photography
Kyle Reinhardt rolled into Port Royal Speedway with the Grove Racing team carrying the momentum of three straight top five finishes and five top ten finishes in seven starts with the team.
With a lot of cash on the line over a three day period, Reinhardt was in the best position he had ever been to claim a nice share of the money Port Royal was putting up for the 56th Annual Tuscarora 50.
Before he could even get started, one of his three chances was washed away by rain when Thursday's opener was cancelled. That still left Friday's $10,000 to win show and the $60,000 (increased from its original $56,000) to win Tuscarora 50.
QUICK RESULTS
DATE: September 8, 2023
Info: Grove Racing No.45 / All Star Circuit of Champions
Event: Night Before the 50
Track: Port Royal Speedway
City, State: Port Royal, PA
Quick Stats: 48 cars, Qualifying 5th in Group C, Heat 7th (5), B-main 10th (13), A-main 21st (27)
DATE: September 9, 2023
Info: Grove Racing No.45 / All Star Circuit of Champions
Event: Tuscarora 50
Track: Port Royal Speedway
City, State: Port Royal, PA
Quick Stats: 49 cars, Qualifying 10th in Group 2, Heat RAIN (1)
NIGHT BEFORE THE 50
The All Star five heat group format was in play for the 48 teams on hand Friday night at Port Royal Speedway. Reinhardt turned the 5th quickest lap in his group. With only four transferring from each heat, he would need to move forward to get in the show.
After a strong start, an issue developed and Reinhardt faded to a 7th place finish in the Grove Racing, Capitol Renegade, Bakers Mobile Home Transport, Coors Banquet Beer, Henry's Wrecker Service No.45.
Starting deep in the B-main (13th), Reinhardt needed to get to the top four to race his way into the A-main. He managed a 10th place finish.
The team used an available provisional to start the A-main. Reinhardt was able to move forward a few spots to a 21st place finish in the 30-lap Friday finale.
"We weren't very good in qualifying, then we had an issue in our heat. Hard to dig out of a hole like that with so many good cars here.", Reinhardt said.
TUSCARORA 50
Saturday evening the program began under sunny skies but with an unfavorable forecast, just like Friday night's show. The Tuscarora 50 format split the 49 cars into two groups for time trials.
Reinhardt turned the 10th quickest lap in Group B, a nice improvement over Friday's lap.
The qualifying effort earned Reinhardt the pole for heat number four with the top three finishers transferring to the A-main, but unlike the night before, the skies did not cooperate. Moments after time trials were completed, the rain came. They didn't let up for hours, forcing officials to postpone the event.
When the Tuscarora 50 is rescheduled, the program will start over. A makeup date for the event has not been announced yet.
Sponsorship opportunities are available for the 2023 season.
Kyle can be contacted via kylereinhardt46@gmail.com.
UP NEXT
Reinhardt and the Grove Racing No.45 team will join the All Star Circuit of Champions at Fremont Speedway for the two night Jim and Joanne Ford Classic on September 15th and 16th.
Follow Reinhardt's social media channels listed below or check Addicted2DirtPR.com/Events for the latest schedule updates.
SEASON STATS
47 races, 1 wins, 8 top 5's, 25 top 10's, 32 top 15's
PARTNER SPOTLIGHT - Coors Banquet Beer
HISTORY
Coors Banquet beer was first brewed 150 years ago. It was the original product brewed by Adolph Coors in Colorado when he first established his brewery in 1873.
Over those 150 years, Coors has not compromised their craft. Since day one Coors Banquet has been brewed only in Golden, Colorado, with Rocky Mountain spring water and Moravian barley.
The company will celebrate their sesquicentennial on September 30th, 2023, with a huge street festival in the town where it all began – Golden, Colorado. This memorable event will feature a lineup of live musical performances, local artisans, brewery tours, limited-edition merch, and great food and beer.
SUPPORT LOCAL
Ace Distributing is a leading beverage wholesaler in South Central Pennsylvania, right in the heart of the racing community.
When you head to your favorite dirt track, you want your favorite ice cold beer to enjoy, right? Ace services over 1,400 direct retail partners across Lancaster, York, Adams, Franklin, Fulton, Cumberland, Dauphin, Lebanon, Perry, Mifflin, and Juniata counties.
That means you can pick up some Coors Banquet beer from your local distributor on the way to your favorite track!
Please drink responsibly!
ABOUT KYLE REINHARDT
Kyle Reinhardt is a professional winged sprint car driver based in New Oxford, PA. Originally from Neptune City, NJ, Kyle has been racing since 1999 and has earned multiple victories at every level he has competed in. Since turning professional in 2019, Reinhardt has compiled two track championships and seven victories, including an All Star Circuit of Champions win.
Learn more about Kyle Reinhardt and shop merch at: KyleReinhardt.com
Follow Kyle Reinhardt's season at: A2DPR.com/latest-news
Facebook: Facebook.com/KyleReinhardtRacing
Twitter: Twitter.com/KyleReinhardt21
Instagram: Instagram.com/KyleReinhardt21
Broadcast coverage of World of Outlaw events and Williams Grove Speedway events is available at DirtVision.com
Broadcast coverage of All Star Circuit of Champions event, Port Royal Speedway events and select Lincoln Speedway events is available at FloRacing.com
Broadcast coverage of 410 sprint car events at BAPS Motor Speedway AND select PA Speedweek shows is available at SprintCarUnlimited.tv
THANKS TO OUR PARTNERS!
The entire team would like to express their appreciation to all their partners for the support during the 2023 racing season!
Capitol Renegade
Capitol Custom Coaches & Trailers
Coors Banquet Beer
Henry's Wrecker Service
Fibreworks Composites
Maxim Chassis
FK Rod Ends
Kelly Racing Fuel
Arai Americas
KSE Racing Products
InTech Trailers
Mettec
AL Driveline
DMI
Rider Racing Engines
HP Engines
Titan Wings
Simpson Race Products
---
Article Credit: Addicted2Dirt PR
Article Media
Back to News